5 Facts about Facebook's News Feed Problem
Have you noticed that lately you post something really funny/interesting/important on your personal Facebook page and no one seems to notice?  And in your feed, sometimes you miss posts from your best friends, but see the same posts you don't care about over and over? Or maybe you set up a Facebook Page for your band or small business to keep in touch with your fans, but now your posts seem to be reaching fewer and fewer people?
I manage a Facebook Page with more than 5,000 fans as part of my job, and as a freelance musician I and many of my friends use Facebook to get the word out about performances and musical projects. I've spent countless hours developing content for Facebook and even paid for ads. But in the past couple months, my perspective on Facebook has changed radically due to what I consider to be a serious problem with the Facebook News Feed. I'm hoping these facts can help other musicians and anyone with a Facebook Page understand how Facebook's News Feed currently works, and what your best options are.
Fact #1: Your News Feed is Getting Crowded.
A great article on TechCrunch explains the problem, which is pretty simple, really: Facebook has gotten too popular.  The more grandmas and co-workers and bands and businesses and non-profits that join Facebook, the more friends you have and the more Pages that you "like," the more information that naturally gets pushed to your News Feed.  The feed of the average Facebook user now has 1500 posts per day, more than most of us would ever want to see.  So who controls this flow of information? Why, Facebook, of course!
Fact #2: Your News Feed defaults to "Top Stories," the mode where Facebook controls which content you see.  
Sure, you can switch your feed to display "Most Recent" (though frighteningly, that option recently disappeared for a couple weeks from business Pages), but Facebook will always switch you back to Top Stories mode each time you log in.  And sure, you can dig around for browser plugins or bookmark a special URL to get around Facebook's automatic default mode, and follow/unfollow people to your heart's content, but the majority of Facebook users are not going to do that, because Facebook has purposely made it very difficult.
Rather than allowing users to control the flow of information, Facebook has created a complex algorithm (which they continually tweak) to decide for you what information you should see.   This algorithm, of course, favors information stored on Facebook rather than links that take you offsite. It also tries to anticipate your level of interest based on whether your friends liked it and what sorts of posts you've tended to like in the past.  It's a nice idea, but …
Fact #3: Facebook's "Top Stories" algorithm is fundamentally flawed.
This algorithm, no matter how much it's tweaked, will never be as good at determining what users want to see as they would if they had more control.
Let's say you create a shiny new post on Facebook, one you think deserves a lot of likes and comments.  Within the first few critical minutes of the life of your post, you can tell whether it will have a long, happy life, getting views, likes and comments by your friends and fans, or die a quick death and be seen by virtually no one. Why?  Because the algorithm decides if your post is a Top Story based largely on whether people seem to like it when it first appears.  If it doesn't do well in the first few minutes, it becomes a dreaded Bottom Story, never to be seen again. It's why your late-night weekend posts don't do well if your friends are mostly out socializing at that time rather than on Facebook. And it's why I published and shared this post on a weekend rather than a Monday morning, when I know my audience is mostly at work trying to catch up on emails.
The one-size-fits-all approach to determining which posts make it into your News Feed is applied indiscriminately to content from Pages, whether it's Coca-Cola's brandvertising, urgent severe weather updates like Texas Storm Chasers', or your friend's band's "I'm playing at J&J's Basement tonight" posts.  How could Facebook possibly pretend to understand how important each of these things is to you as an individual at any given moment?
Fact #4: Facebook is a Waste of Time.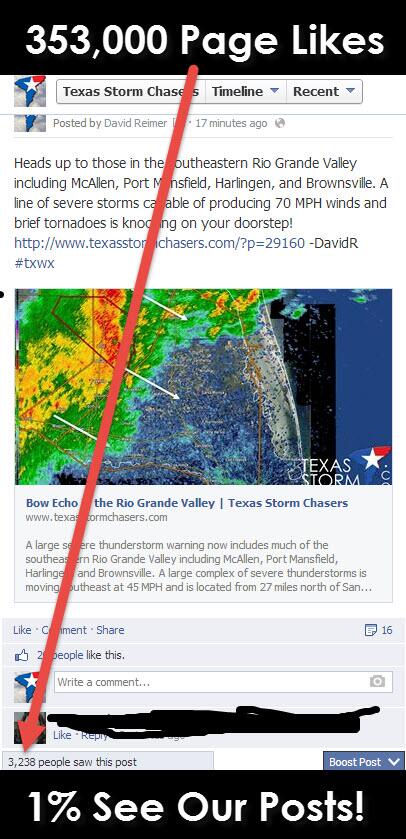 Okay, we all know Facebook is a royal Waste of Time — who hasn't clicked the app just to see their notifications and then emerged a half-hour later having waded through posts about the health benefits of brown rice, #TBT photos of people you haven't even seen IRL for years, videos of the most famous internet cat doing mundane things that still manage to be mind-blowingly cute, and posts about the horrors of arsenic in brown rice.
But I'm talking about the Waste of Time that is trying to use Facebook to self-promote or broadcast information, whether it's letting your friends know that your band is playing tomorrow or trying to get severe weather updates out to your 350K followers that want to know about severe weather updates. A good, old-fashioned post is no longer going to cut it. You're going to have to be strategic about the time of day. You need to optimize your images for ever-changing desktop and mobile News Feed formats, and read articles about tricks for getting more of those all-important first likes — but make sure not to actually ask for likes. Even simple formatting like boldface requires pasting from an offsite editing tool, and forget about HTML. Even if you spend the time doing all of these things, your posts will probably reach about 1-10% of your fans or friends. These time-sucks are simply NOT WORTH IT, considering that…
Fact #5: When you create a Facebook post, you're developing content for Facebook, not yourself.
Beyond the fact that you can't control the formatting or visibility of your posts, content created for Facebook is also hosted on a corporate website that is largely inaccessible to search engines. You'll never be able to search your Facebook feed like you can search the web. Have you ever tried to find a specific post that showed up in your feed a month ago?  It's nearly impossible, especially if you can't remember who posted it. And when you create a post that actually does well, Facebook benefits from the traffic — to the point that maybe Facebook should be paying you rather than the other way around.
The bottom line is that Facebook is just another corporation, legally obligated to make money for its stockholders. It can be a great diversion and a useful tool if you know how to use it.  But as far as self-promotion and business Pages, it's time to reign in the outsized amount of time and energy we all put into it, and stop donating content to further their profits.
I say it's time for the humble blog to make a comeback. Take your content first and foremost to your website, where it's publicly viewable and searchable, people can link to it, you can set up analytics, you control the hosting and can back up your data, you control the formatting with a WYSIWYG or HTML editor, and you can put in as many pictures as you want.  Encourage people to subscribe directly to your feed, and link back to your website from an email newsletter or Twitter. At your website, you decide the Top Story.  And maybe it will become a Top Story on Facebook too when you post a link to it, or maybe not, but at least you have control.